4 Design Tips to Build a Yoga-Friendly Home
Interior Design & Decor
1131 views
1131 views
Do you know that dedicating a space to yoga in your home can help you cultivate awareness? As you practice in the same spot day after day, you will begin to notice how your body feels on different days and how your mind greets the same space with new thoughts.
Essentially, a yoga room would give unconditional support to you and your practice. It provides an opportunity for you to practice every day - a way to acknowledge your commitment to yoga. You are literally making room for it in your life.
No matter what, making a physical space at home for your yoga practice can make a significant effect in your life. But how one should start to make all of these possible? No worries! In this blog we offer 4 useful design tips to build a yoga-friendly home.
1) Design Within Reach
Serene and simple home yoga room (Image via houzz.com)

We understand that not everyone has an extra room. But, really, any space will do irrespective of the size. Appreciate what you have because you would never know a corner or an area of another room can be that perfect space for your yoga practice.
Whether you are working with a space slightly larger than a mat or the most expensive room of your home, you must make clear your intention for the area and take a rational approach when it comes to decorating your yoga space.
For instance, you may put your mat in front of a window shaded by a tree to remind yourself to stay connected with the environment at the same time leave the rest of the space empty and free of distractions. This is because the more empty the room, the better focus you will have.
Alternatively, you may use scented candles, incense or aromatherapy spray to create a welcoming feel to the space. Give the room all the items that will serve you best in representing your intention. The rule of thumb here is to always design to express yourself, not to impress others.
2) Be Energy Efficient


Home yoga room with large windows (Image via housemethod.com)

As you design your yoga space, we recommend to utilize natural light and airflow in order to reduce the use of electricity. Wherever possible, you may install skylights so no electric lighting would be needed during the day.

In addition, large windows are a good way to bring nature into your practice. Bear in mind that you should not keep them open all day long if you live in an area that is exposed to high levels of air pollution.
In any case, lighting should not underestimated because it is paramount and has a major influence to your mood and well-being. Hence, lightweight cotton curtains can be a great alternative to help with light filtering and privacy, as well as adding softness to your yoga space.
3) Go Chemical Free
Home yoga room with hardwood floors (Image via pinterest.com)
Yoga keeps both your mental and physical health in check
. Therefore, by choosing
eco-friendly products
that are made out of
natural and highly
renewable resources
, you can feel good about nurturing yourself and the environment.
We recommend to seek out products that are made from bamboo, organic cotton and natural rubber instead of PVC and other chemically-loaded materials when decorating your yoga sanctuary.
If you are painting any walls or furniture, consider using low- or no-VOC (volatile organic compound) paint. Forego synthetic carpets and look into hardwood floors as they are great for yoga and holding balance poses.
4) Keep It Small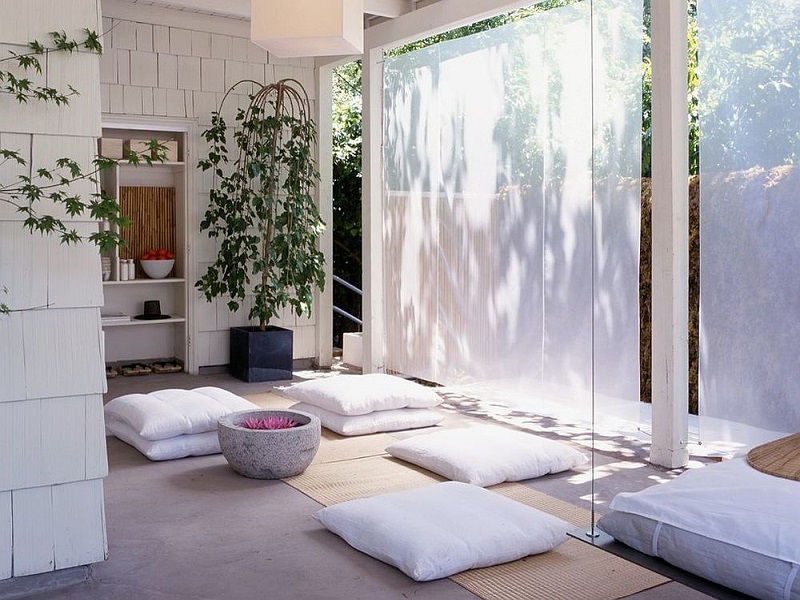 Simple and minimal yoga room with glass walls (Image via decoist.com)

Transforming existing space is the best way to build a yoga space in your home. You can start by taking a look around to see if anything can be reused and re-purposed. Keep it small to save the Earth's resources as well as your time and money.

If you end up removing furniture to make room for a mat, recycle or give away whatever you can to avoid adding to the landfill.
Make sure you only include items that are functional or beautiful. Clear out anything useless and design your space that suits your particular needs. This will instantly remove distractions, turning your room into a blank canvas.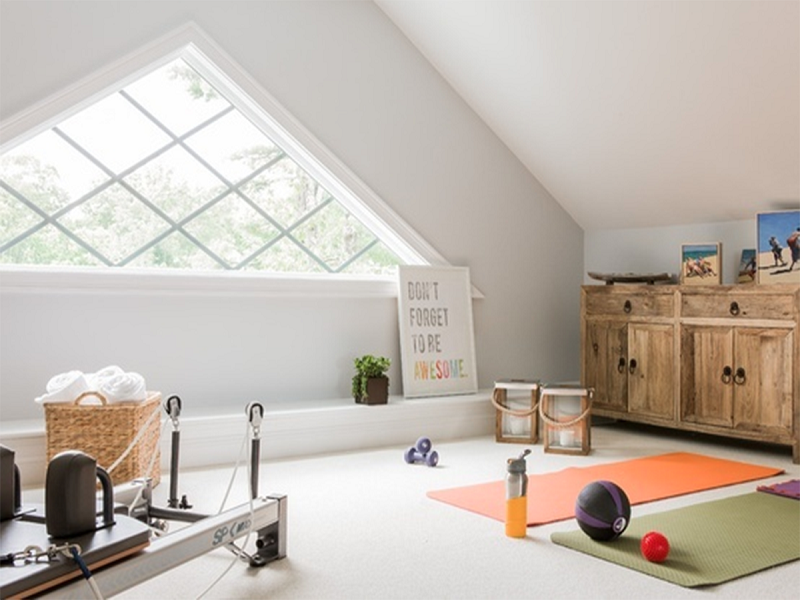 Tranquil home yoga room with skylights (Image via coolerlifestyle.com)
In conclusion, to build a yoga-friendly home,
silence is the first prerequisite
because yoga is a form of exercise that
detaches you from the outer world
.
The general principle is that you must ensure the room has
windows and
ample exposure to natural light
and is
not too cluttered or filled up
.
Of course,
the costs will differ
depending on whether you are building, remodeling, or redecorating. Most definitely, we hope this blog would end you up with a yoga space where you are able to
start meditating and make changes to your life
!
Request for quotes and we'll match you with a selection of Interior Designers!
Previous
6 Ideas to Transform Small Space into Large Storage
Next
Singapore's Top 3 Property Trends in 2018