Top 3 Trends We Can't Keep Our Minds Off
Furnishings
2963 views
2963 views
In our fast paced society, ideas come and go in a flash, and so do trends. We've picked three distinct ideas from the pile, of which we can't stop obsessing over at the moment, and we hope to have you hooked as well!
1. Plants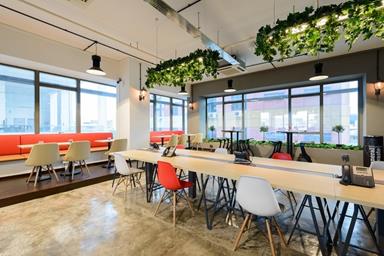 Credit: Starry Homestead Pte Ltd
Embrace mother nature by adding greenery to your list of home decorations. These days it's not just about dumping a potted plant by the balcony, now there are actually countless ways to infuse greenery into your home.
Create an indoor garden by placing potted plants on display shelves, or hang a variety of gorgeous air plants around the house. You could also get handsy with a do-it-yourself home for plants like cacti. Get a fairly large wooden box, decorating the outside for a personalized touch, before filling it up with the appropriate soil and sand. Add an assortment of cacti together into the box, and voilà you have a little cacti garden that's uniquely yours.
These suggestions merely skim the surface of having plants serve a decorative purpose around the house, so we suggest you visit a nursery and see what else you can come up with. Besides, they not only give your home an aesthetic edge, they also provide some health benefits in return, with the way they're helping to purify your air.
2. Patterned Tiles
Credit: H2o Interior Renovation
Nothing quite turns up the vibrancy of a home like an immense burst of colours and prints. A room will instantly look delightful with intricately patterned tiles, especially with suitable home furniture to match. We suggest you select a main theme first, making your decision easier when you have to think of which rooms to tile and what colour schemes to take on.
The best part about tiling your floors (or even walls if you wish to play it up), is you don't have to stick to one design per room. The fun's in mixing and matching, combining various designs which work well together, to produce a larger intriguing motif laid out across your floor.
Sometimes you don't even need to tile the entire room; just a portion of it will do, against a more ordinary flooring such as wood. We say just keep experimenting, because there are so many different ways to use this fabulous trend.
3. Vintage Tubs
Credit: H2o Interior Renovation
The shower may be a more convenient choice, but there's nothing quite like a comfortable soak in the tub. And where bathtubs are concerned right now, vintage tubs are all the rage. Vintage tubs give bathrooms a more polished look, even if you pair it with a modern and simple bathroom setting. Well of course, if you want the full works with an extravagant and luxurious vintage bathroom setup, go on and be our guest.
What's interesting is these days, there seems to be a rise in the number of homes which have tubs placed right smack in the middle of their bedrooms. It honestly is a remarkable idea, because there's no better convenience than rolling right into bed after a good soak.
Use one, or combine them all; these trends are bound to add terrific touches to your homes. The excitement lies in watching each of your plans unfold, as you venture further into creating an brilliantly trendy home for yourself.
Request for quotes and we'll match you with a selection of Interior Designers!
Previous
Unique (And Outright Gorgeous) Themes For Your Home
Next
The Basics of Interior Designing That You Must Know