Cleaning Away COVID-19 With Sureclean
Commercial Services
426 views
426 views
In a post-COVID-19 era, basic hygienic practices such as washing hands, wearing masks, and cleaning surfaces after use have become the essence of daily life.
While COVID-19 spreads mostly through airborne droplets rather than contaminated surfaces, especially in tight indoor spaces, you can still take an extra step to ensure that your surfaces are clean from anything and everything that can harm your health (since other bacterias and viruses don't take breaks during this pandemic). Not to mention, since schools, kindergartens, and childcare centres have reopened, children's health needs to be checked more frequently.
There are lots of ways to keep your air and surfaces clean - spritz machines, blue UV lamps, air purifiers, hand sanitisers, and disinfecting liquids.
Areas To Focus On For Cleaning
Hands
Airborne droplets land everywhere, so one must be wary of touching contaminated items. Since COVID-19 can enter your body through the mucous membranes in your eyes, nose, and mouth, your hands should be clean prior to touching that slight itch on your face.
This is why sanitisers have become an important necessity, as they can kill up to 99.9% of germs and bacteria hiding on your hands. Most sanitisers these days have been manufactured to kill the virus strains that cause COVID-19.
While sanitisers are highly effective, soap and water works just as well in killing germs and keeping your hands clean, especially of heavy dust and dirt.
Tables & Chairs
We use tables and chairs for a variety of daily activities, from eating to resting to studying to storage. This high amount of usage means they can get contaminated very easily, so one should clean their tables and chairs regularly.
Food particles to liquid streaks to dust to certain airborne particles, if left unattended for too long, can lead to a build-up of nasty germs, thus posing a health risk to you and your loved ones. There is also the high probability of COVID-19 particles either from the air or an infected person's fluids landing on your tables and chairs.
There are three steps to cleaning your tables and chairs; first, remove all visible and big particles. Then, use a wet wipe to clear up any moist or sticky residue. Finally, wet a clean cloth with disinfecting liquid before giving your tables and chairs one last wipe.
Sinks
The sink is another household item that is used many times a day for a variety of reasons, making it another breeding ground for harmful bacteria. Like with tables and chairs, sinks can accumulate dirt and bacteria that can risk one's health.
This is especially so if you are handling imported frozen or refrigerated food at the sinks, as research has shown that traces of the Sars-CoV-2 virus, which causes Covid-19, can survive in frozen fish, chicken and pork for up to three weeks at refrigeration temperature.
Regular cleaning and sanitising of sinks in bathrooms and kitchens can help keep coronavirus strains away.
Walls & Floors
Walls and floors are the most exposed to airborne particles and skin contact, so there is a chance you can pick up COVID-19 from these surfaces. This is especially so if you are in close proximity with an unmasked infected person, as COVID-19 particles may land on the walls and floors around you.
You can use a variety of methods to clean your walls and floors, from spraying to mopping to scrubbing to wiping. As cleaning walls and floors can be tedious, you can also use hot steam or blue UV lamps to disinfect them.
You will need the right tools and products to properly sanitise your surroundings. In case you need a store to get your cleaning items in bulk, you can turn to Sureclean™ for your cleaning needs.
About Sureclean
Since 2013, Sureclean™ has been the most trusted brand and leading hygiene supplier in Singapore. Their cleaning products and disinfection services have supported many local industries, particularly in childcare facilities, hospitals, clinics, commercial spaces, offices, and residences.
Sureclean™'s products have proved effective in eliminating and controlling the strains responsible for HFMD (Hand Foot Mouth Disease), making the brand the leading supplier for childcare centres. They have been certified as 100% child-safe by PSB Singapore, food-safe by the HACCP International Food Safety Accreditation, and ISO: 9001 certified.
They have also been tested at Changi General Hospital and proven to reduce Hospital Acquired Infections (HAI), thus preventing the spread of infections in hospitals.
In addition, SureClean™ and its founder won the Promising SME 500 Top Business Luminary award and the Spirit of Enterprise accolade. It is currently expanding its franchise to Hong Kong and Thailand.
Other than sanitising products, Sureclean also provides home cleaning and disinfection services, using their Germclean+ disinfectant which protects home surfaces for up to 365 days.
You can get a quote from Sureclean™ here if you require their home cleaning service; you can leave your home in their hands so that you do not have to worry about meticulously cleaning it from top to bottom. Quotes for office and home disinfection services are also available.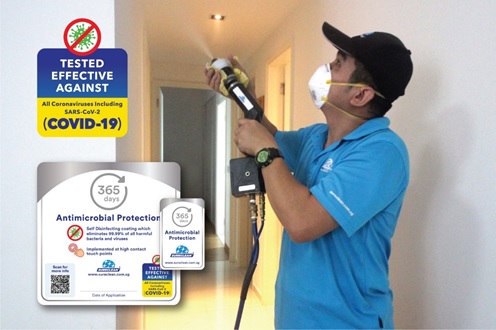 Sureclean's Services and Products
Sureclean's Germclean365 home cleaning and disinfection services use the brand's industrial-grade Germclean+ to coat household surfaces with its dual anti-microbial mechanism technology, which kills up to 99.99% of germs for up to 365 days even after repeated wiping. This is particularly useful for public places and frequently touched surfaces.
Germclean+ can also be used for post-renovation cleaning due to its photocatalytic properties, which can remove certain air pollutants including harmful volatile organic compounds (VOCs). These VOCs are often present after renovation and can cause irritation, headaches, and allergies.
Sureclean has another useful product to look out for, one that can be used at home; its home-grade disinfectant Germclean has been tested and proven effective against SARS-CoV-2, the virus that causes COVID-19. It can last up to 30 days with a single application and be used on various household items and surfaces to better protect your health and those of your loved ones.
Other than Germclean, Sureclean's product line-up also includes hand sanitisers; SANIHANDS from Sureclean is a foamy hand sanitiser that is alcohol-free and gentle on the skin while killing 99.99% germs, bacteria, and viruses. It does not dry your skin out and is safe for children to use.
You can explore Sureclean's range of sanitisers and disinfecting liquids at their product page.
Contact Sureclean
Website: https://sureclean.com.sg/
Whatsapp: +65 9772 4528
Facebook: https://www.facebook.com/surecleanpro
Instagram: https://www.instagram.com/surecleansg
YouTube: https://www.youtube.com/sureclean
Request for quotes and we'll match you with a selection of Interior Designers!
Previous
Minimalist Design Ideas for Your Home Office
Next
How To Create A Mood Board For Interior Design