Stylish Space - High Style
Interior Design & Decor
18380 views
18380 views
Elevated from a one‐storey to a towering triplex, this nest was built to hold all three generations of the homeowner's nearest and dearest.
Who stays here
A three-generation family
Space
Three‐storey semi‐detached house
Size 
(Approximately) Land size: 3900 sqf;
Total size: 5600 sqf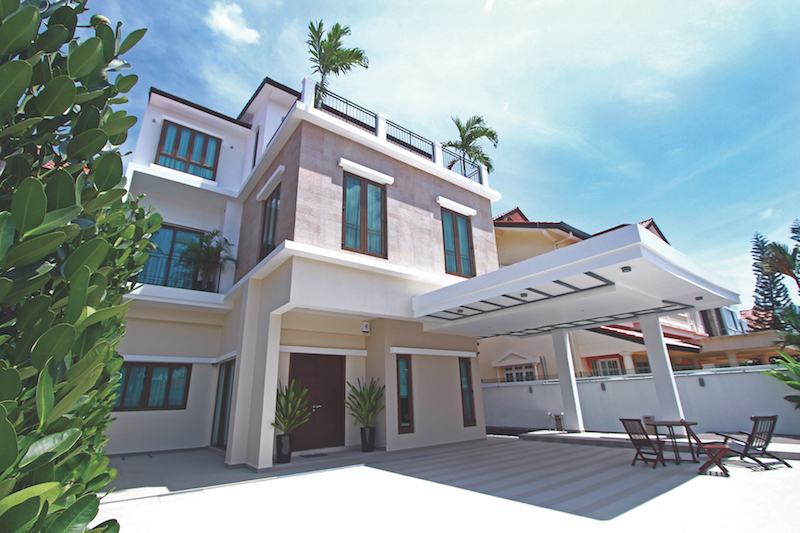 It's obvious from the first impression that the occupants of this three‐storey mansion are a close‐knit family big on get‐togethers. From the collection of beautifully crafted wooden chairs out on the front porch to the communal areas designed for intimate soirees and casual gatherings within the haven, family togetherness heads their priority list.
With a party of people under one roof, who would have figured that this sophisticated sanctuary was originally an archaic single‐storey house?
Above & Beyond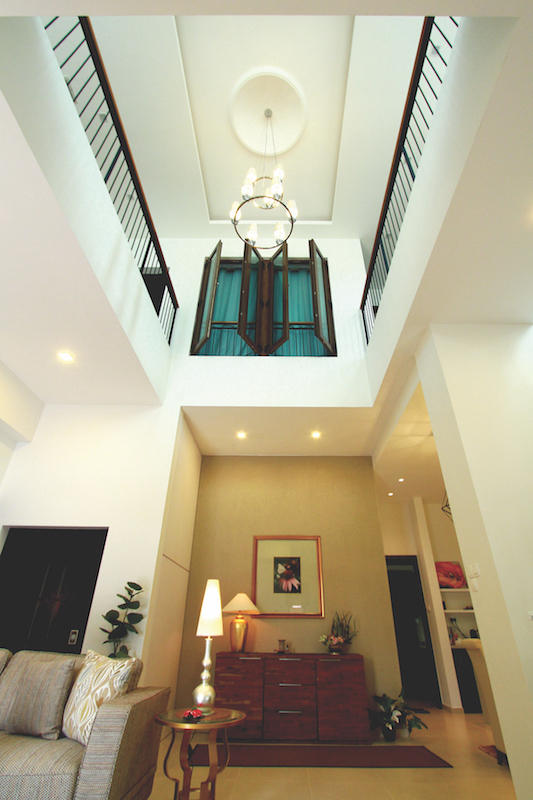 Taking centrestage, the opulence of the double‐volume ceiling emphasizes the mansion's grandeur. Nonetheless, it works wonders in opening up the space to lend a sense of closeness to 'neighbours' across the bottom two levels.
Having entrusted a project in the hands of Nic & Wes Builders before, the homeowner was keen to enlist their help once more. This time, the project brief was simple: to house his multi‐generational family comfortably. In terms of aesthetic and accomodation needs, the house's original state didn't quite cut it. So Nic & Wes Builders had to tear down the entire building and start from ground level. The design and build company's forte lies in project managing from start to spectacular, and they did the same for this abode without a hitch. The quaint home was thus transformed into a breathtaking three‐storey high mansion elevated to new heights of luxury, style and functionality.
Living Zones
Taking up a total of approximately 5600 sqf, the newly erected house proved to be more than ample for the three generations. It boasts sprawling communal areas designed for the entire clan to convene, as well as luxurious bedrooms each with an en‐suite bathroom and a walk‐in wardrobe.
Built to serve the family's lifestyle needs, enviable amenities such as a swimming pool nestled near the back of the house, a spacious driveway, a movie screening room as well as an elevator were fitted within the compound – all carefully thought through and planned by Nic & Wes Builders.
    
Breaking Monotony
The panel of experts from Nic & Wes Builders demonstrated an ingenious use of space segregation. Their designer first started on a polished neutral palette for the entire house, then she personalised the different levels according to each family's singular style preference: a warm tropical‐inspired sanctuary on the ground floor, a modern black and white setting for the second, and a casual beach-chic style for the outdoor balcony on the highest floor.
Monotones keep the middle floor looking contemporary and oh‐so chic.
Imagine balmy evenings and light conversations with loved ones enjoyed over a cup of coffee. Aah, such bliss.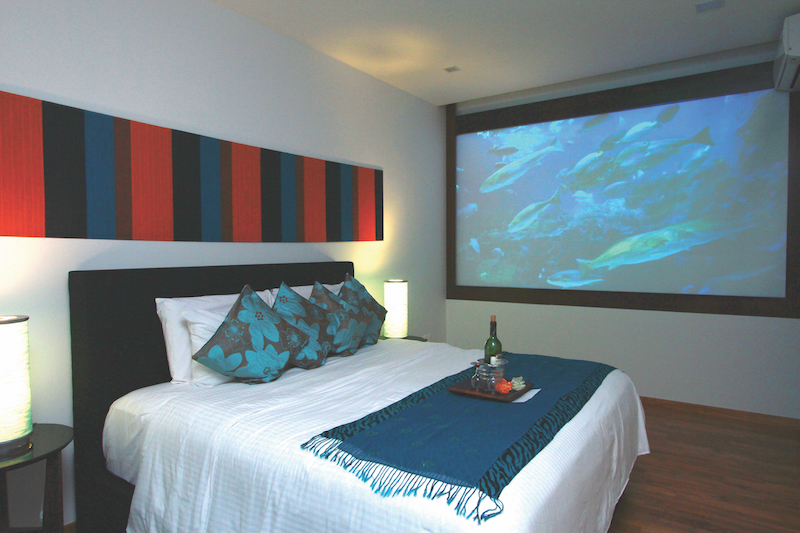 WE LOVE: Fancy waking up to an aquarium of underwater creatures tonight, and a landscape of beautiful sloping hills the next? Featuring a virtual portal that has the ability to take you (figuratively, of course) anywhere across the globe, this breathtaking room proved Nic & Wes Builders' knack for the extraordinary.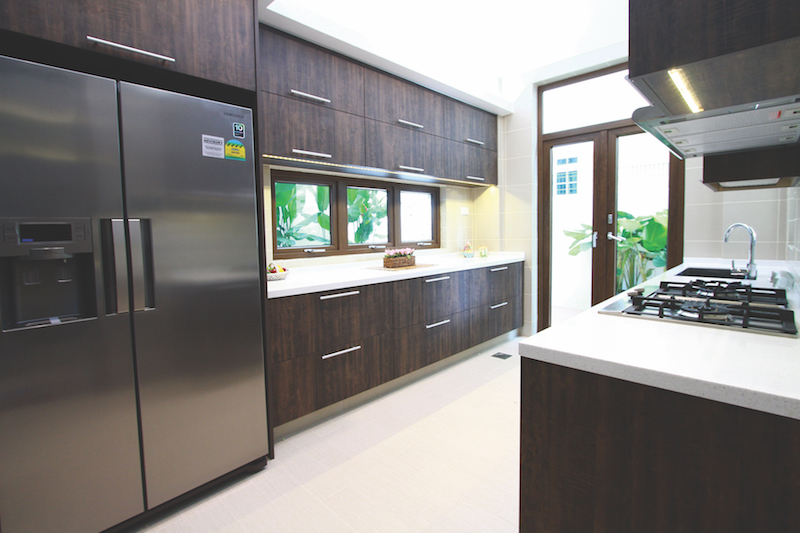 Generous amounts of storage space are on hand to keep kitchen supplies out of sight – and to keep the extended family satiated.
Touch of Lush
Nature's lush beauty makes the perfect complement to the earthly palette dominant in the haven.  Each strategically sited, the potted houseplants breathe life, colour and summery freshness into the spacious space. Visitors are first welcomed by gorgeous greenery standing guard by the sides of the front entrance. Leafy beauties continue to dot the interior and they are akin to works of art – lending structure and style into the domain. With an aura reminiscent of a tropical desert oasis, this calming haven keeps all three generations of this loving family close together.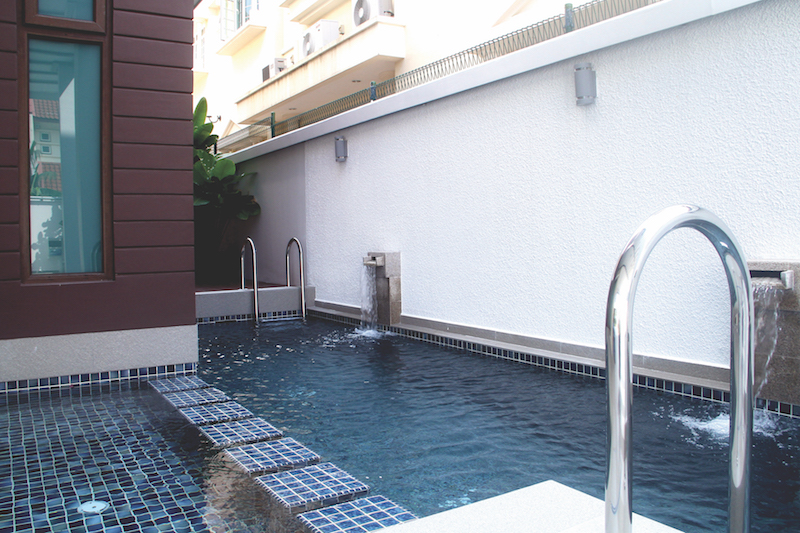 With a designated shallow area for kids to splash around as well as a deeper section to make way for some serious swimming, the pool keeps the kinfolk happy and healthy. In fact, the dining room opens up to the deck – making this space perfect for pool parties!
Request for quotes and we'll match you with a selection of Interior Designers!
Previous
Stylish Space - Yesterday Once More
Next
Stylish Space - Gallery Glamour