Is THIS The Future Of Chairs?
Furnishings
2971 views
2971 views
You've heard of expandable tables and beds, but have you heard of expandable chairs? Introducing this revolutionary function into the market is Canadian inventor Daniel Chiriac. "This is a function that can be applied to different designs, just like how a reclining mechanism can be used in various forms," he explains.
The most important aspect of the expandable chair is probably its practicality. Both usable and space-saving, it looks like a regular chair at first, but lo and behold, can expand outwards at the sides when needed. "The lateral sections are hidden inside the central section when not in use. So when there's a need for extra seats, the user just needs to pull the lateral sections out," Daniel describes.
Unlike stackable chairs, this invention can even be utilised when it's not expanded, making it super functional. If placed in a living room, it can also transform into a long sofa that accommodates 5 people comfortably.
Daniel adds, "Besides the home, it can also be used in waiting rooms or airports – basically places where people are constantly moving and passing. My solution keeps the space available, while giving the option of more seating areas when needed."
The extra seats can be stored under the armrests…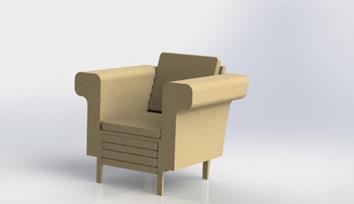 .. Or in the central section.
The second prototype of the product.
What do you think of this concept?
---
Video and all images from Daniel Chiriac.
Request for quotes and we'll match you with a selection of Interior Designers!
Previous
Unique Bathroom Trends To Experiment With
Next
7 Commonly Made Mistakes When Selecting Wall Colours