How to Create a Beautifully Cosy Home with 5 Simple Boho Chic Decorating Tips
Furnishings
6620 views
6620 views
If you're like us, and you're looking for something different from the usual choice of Scandinavian/Industrial style of renovation that's been so popular recently, why not get on the Bohemian bandwagon! With its "anything goes" spirit, colourfully whimsical nature, and eclectic cosy vibes, a Bohemian home is very much a delight to come home to.
Instead of being a particular style of interior decorating, it's more a way of thinking and lifestyle, culminating from one's personal perception of colours and patterns – making it perfect for people who want something more personal. Merging the vivid styles of Bohemian decoration with the chic sophistication of minimalist décor, feel free to throw strict design rules to the wind and embrace your inner creative as you put together a home that is yours.
1. Art
No Bohemian home is complete without art on the walls. If you don't have the patience to make your own art, then make sure to look out for wall paintings or even 3D wall sculptures from places like Kwerkee.com. You may even head down to art fairs like The Affordable Art Fair (17-19 April), and Artwalk@Wessex (7-8 March) to get some affordable, suitable pieces for your home.
2. Colour
Known for the vivid colours infusing warmth into the whole Bohemian aesthetic, boho chic homes come alive with a wonderful medley of colours. If you're afraid of clashing colours (which you shouldn't be since design rules are non-applicable here!), create the colour palette you want for your home, and stick to the colours whenever you make purchases for your home. For example, bedding, furniture, etc.
(Read: Your Guide to Creating the Perfect Colour Palette for Your Home)
3. Nature
If you do a quick google, you will realise that Bohemian homes tend to feature a lot of plants, along with other natural elements – such as wood, seashells, coral, crystals and geodes. In line with the Bohemian concept, make sure to decorate your home with these. It will help to introduce a lively freshness into your home, while amplifying the beauty of your space.
4. Pattern
Patterns are rampant in Bohemian homes. Look around and check out different patterns like mandalas, floral prints, geometric prints, and any other pattern you might fancy. Introduce this through your tiles, furniture, art, or textiles and your home will be charmingly infused with a certain je ne sais quoi.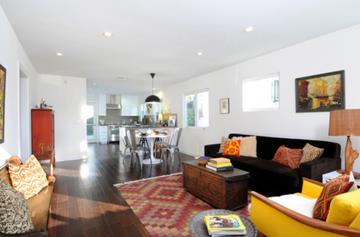 5. Textiles
An important aspect of furnishing that goes a long way in making your home look and feel comfortable, is the choice of textiles used. From your curtain drapes and couch cushions, to your bedding and down to the rugs – make sure to use an assortment of textiles of different textures. For starters, consider using light billowy drapes as a base, and adding a second layer with colourful curtains. Next, how about a nice rug for your floors? Faux fur rug from Ikea, or woven rugs, anything goes. Put thought into the different types of textiles you might want to introduce into your space, and it will result in a fabulously luxe boho chic look.
Photo Credits: 1. 1st Option; 2. Boho Market; 3. Repostudio; 4. Digs Digs; 5. Madison Modern Home;
Request for quotes and we'll match you with a selection of Interior Designers!
Previous
33 Amazing Places for a Pre-Wedding Photoshoot in Singapore
Next
An Essential Guide to Tile Shopping for Your BTO Renovation