AWESOME Halloween Decorations To Dress Up Your Home With (Part 2)
Furnishings
2599 views
2599 views
Witches are getting ready to ride their broomsticks and goblins and ghouls are about to roam the streets. With just a few more days until Halloween, children and adults alike are preparing to dress up in their scariest, funniest or most magical outfits. This means it's also time to dress up your home in the spirit of the season.
Don't fret if you're pressed for time. From the creepy to cute, and from the gruesome to ghoulish, we've got the most devilishly genius last-minute tricks to make your home absolutely spooktacular:
1. "I'm Watching You" Wreath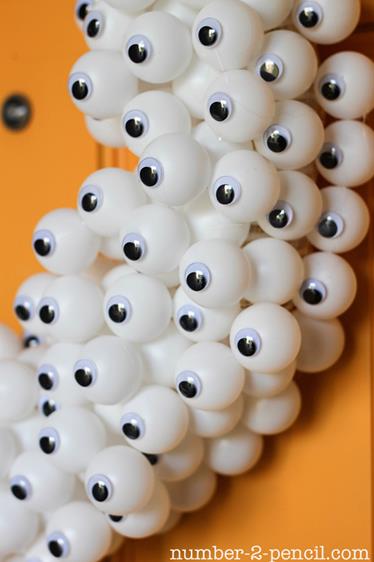 Credit: Number 2 Pencil

Nobody will dare trespass your home with this creepy door decor! Depending on how large you wish to make your wreath, gather 50 to 70 white ping pong balls and paste googly eyes on each ball. Then, cobble the balls together in a circular frame and hang the final product around your door's peep-hole, letting all passerby know that you're watching them.
2. Ceiling of Floating Candles
Credit: Harry Potter Party Ideas

Bring a touch of Harry Potter magic into your home with this enchanted ceiling of floating candles. This homeowner created this look by first painting a blue blanket with a starry night sky scene and sticking this onto the ceiling. She then hung electronic flickering candles onto rows of fine, transparent fishing lines, to give the candles an eerie yet beautiful floating effect.
3. I Spy A Pair of Evil Eyes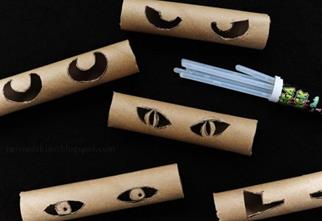 Credit: Rust and Sunshine
For a special night decoration, cut out evil-shaped eyes (try triangular and crescent shapes) in toilet paper rolls. Then, slide glow sticks into the paper rolls to light them up in fluorescent colors. Place these creepy eyes in your plants or in the backyard, giving people goosebumps.
4. Invasion of the Bats
Credit: Dana Made It

Make your interior walls spring to life with this 3D mural featuring a flock of bats. Use black cardboard paper to make bat shapes with this template, and have them fly across your room. Try making the bats a range of sizes and wrap them around wall corners from small to large to create a more dramatic, more spooky effect.
5. Fang Napkin Holder
Credit: Food Network

Ideal for hosting a Halloween-themed party, these fake vampire fangs are perfect for holding a red napkin in place on a dinner plate. Pair this with a glass of red wine to complete the theme. To mix up your dinner table decor, place a different type of fake teeth for each person's placemat, such as a pair of golden pirate teeth or a set of rotten witch's teeth.
6. Blood-Stained Towel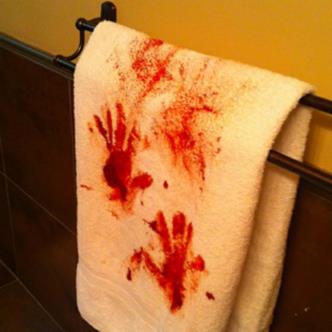 Credit: The Design Daredevil

Terrify all who enter your bathroom with this clever Halloween hack. Select a white hand towel, dip your hands in red paint and print your blood-stained hands on the towel. Wipe strokes and splotches of paint on your mirror for an extra bloody effect.
7. Trash Bag Spiderwebs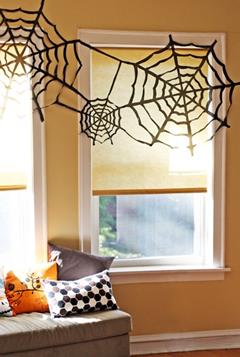 Credit: How About Orange

Make the best of three basic materials in your home: a black trash bag, scissors and tape. Create bold spider webs from the bag and hang them up against your window. The mosaic-like effect these spiderwebs' shadows have on the floor when the sunlight filters through is frightfully fantastic.
8. Creepy Bites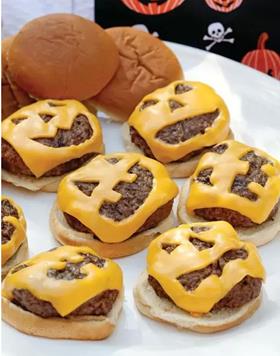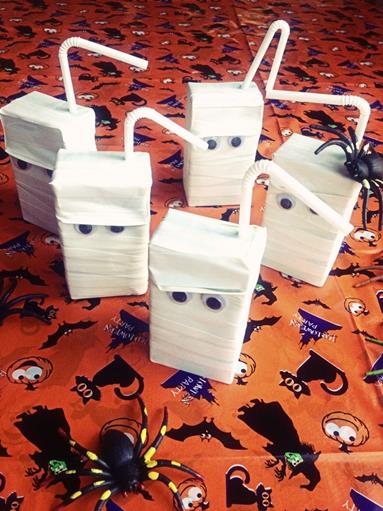 Finally, to celebrate this spooky festive season with your family in style, dress up your food as you would your home. Little ones will love this lunch combination of mummy juice boxes and jack o' lantern burgers. Other food ideas to add to your Halloween menu include peanut fingers, witches hats made from Hershey's kisses, and spider ice cubes.
Request for quotes and we'll match you with a selection of Interior Designers!
Previous
Outrageous Halloween Decorations That Will Scare Your Guests (Part 1)
Next
10 Breathtaking Pools Of Executive Condominiums That Will T.O.P In 2016