6 Ways to Make a Cozy and Ergonomic Dorm Room
Interior Design & Decor
796 views
796 views
Moving to university is fun until you realize that you can't take your home with you. As a university student, you will have to leave all the comforts of home behind, from your cosy bed down to your favourite pillows.
Sure, you can easily adapt to the hassles of school life by hiring a college essay writer to handle your essay writing projects. However, you can't exactly outsource your comfort to anyone else.
That's why we've made a list of all the steps you need to take to transform your dorm room from a boring corner into a mini home.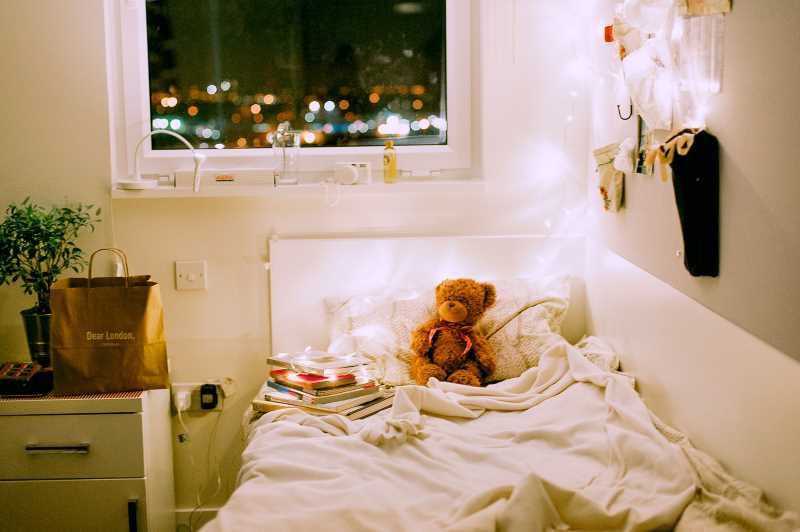 Photo by Daria Shevtsova on Unsplash
Here are six steps you could take to make your dorm room seem like home:
1. Start With The Bed
Trying to transform your dorm room can be expensive, but you definitely don't want to cut corners when it comes to your bed. A bed is the first place where you recharge your batteries after a long day of tiring classes.
Unfortunately, most dorm beds are usually too hard, rarely too soft, and never "just right." Considering the fact that you may be spending most of your leisure time sitting or lying on your bed, you'll definitely want to make it as comfortable as possible.
For starters, get a mattress cover and then throw in a mattress pad for extra comfort. Some people prefer to use a mattress topper as well, but this depends on your comfort level. Next, throw in some soft sheets, blankets, and a soft pillow.
2. Light Up Your Corner
Lighting can completely transform your space from a bland dorm room into a slice of heaven. Most dorms have poor lighting that can make it really hard for you to study at night time. As such, it's essential to be strategic when adding lighting to your dorm space.
But what kind of lighting do you need exactly? Well, for starters, you might want to get some sparkly lights to hang over your bed or study desk. These lights can help ease the stress of a long day and make it seem like you're back home.
Similarly, it would be best if you considered purchasing a desk lamp solely for study reasons. Your roommate might not appreciate you leaving on the main lights while they're sleeping, and this can be inconvenient, especially if you want to pull an all-nighter.
3. Bring In More Pillows
Here's one thing you should note: there's no such thing as too many pillows. If you're trying to make your dorm feel like a cosy home away from home, what you need is a huge pile of soft, fluffy pillows.
Luckily, you can use these pillows for just about anything in your room. Use them as a backrest to get the pressure off your back while studying, as a footstool or for their primary purpose: sleeping.
When it comes to choosing pillows for your space, try not to hold back as much as possible. Use varying sizes and colours to ensure that your room is as comfy as it can be.
4. Spruce Up The Walls
Let's face it: no one wants to stay in a room with drab walls and peeling paint. Unfortunately, there's a huge chance that your dorm walls will be a total eyesore to behold. However, you can brighten up your walls until they look like a scene from a Disney ending. Well, maybe not that bright, but close.
If you have pictures of your family members or best friends, you could hang them up on the wall to make it look less bare. Inspirational quotes and colourful posters are also great alternatives. Just pick out something that will make you smile each time you stare at it.
5. Add Cosy Seating
Whether you'll be having friends over or not, it's always advisable to have comfy furniture in your space. For starters, it gives you an extra lounging spot and also provides a relaxed, home-ish setting.
However, you don't necessarily have to splurge hundreds of dollars on a new leather seat. A simple bean bag or fluffy saucer chair can do the trick. Just ensure that it's comfy enough to suit your needs.
6. Throw In A Rug. Or Two
You probably don't know what has been on your dorm floors. For all you know, you could be dealing with crummy floors that have seen decades of dirt, dust, and just about any nasty thing you can think of. Luckily, a rug can help to cover all of that and still add a touch of warmth and style to your room.
When choosing a cosy rug for your room, you should opt for memorable colours and original patterns if your furnishing is minimalistic. This way, you can make a rug the centrepiece of your room. However, if your space is already filled with bright colours, you might want to go for something more subtle.
Make Your Room A Reflection Of Your Personality
Revamping a dorm space can be overwhelming and demanding. In fact, you'd most likely have a wide range of themes to choose from. However, whatever you decide to do, ensure that your space fully reflects your personality.
Add a personal flair to it by filling up the walls with your favourite pictures, quotes, and even a monogram of your name. On the other hand, if you're a core minimalist, you might want to go for subtle colours and less decor.
Final Thoughts
Trying to transform your room from a drab little corner into a cosy space is definitely not a one-day job. Even after you get rid of school stress by outsourcing assignments to an essay writer online, you're still faced with the hectic task of making your room a livable space.
Hopefully, these tips will help you create a mini home while away from home. However, you should bear in mind that dorm rooms are typically tiny. As such, you may not have sufficient space to be really flexible with your revamping. Just work with the space you have, and you'll have a cosy, homey room in no time at all. Good luck!
Request for quotes and we'll match you with a selection of Interior Designers!
Previous
6 Wall Decoration Ideas to Consider This Summer
Next
8 Ways To Place Living Room Furniture Like A Pro